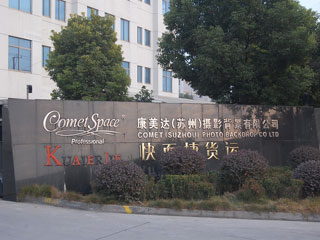 Founded in 1996 in China, which used to be known as Huachang Photo Background Design & Making Co., Ltd., Suzhou Comet Photo Backdrop Co., Ltd., is located in Suzhou Industrial Park, Jiangsu, China
We're a professional manufacturer of photo backgrounds, photography props, photography equipment, studio lightings and accessories and other related photographic supplies.
Our factory covers an area of over 10,000 square meters and has over 50 employees. At present, we have two buildings. A team of professional photographers, designers and painters offer top quality products and the best services to our customers and to establish nice cooperation with our business partners.
In China, we're one of the leading manufacturers and enterprises for photo backgrounds, photo equipment, and other photographic supplies. Meanwhile, we have the best reputation and highest familiarity with a complete sales network.
"Huachang" and "Cometspace", our own brands, have been recognized as top photographic brands both at home and abroad.
With over 10 years' experience in photo background business, our factory has developed various series of products, which can be divided into five major sections: photo backgrounds, photography equipment, photography props, studio lighting and accessories and other related photographic products.
We can offer thousands of designs for photo backgrounds in workmanship, which can be divided into spray-painted, hand-painted, space-dyed, computer-painted, etc.
These backgrounds have been used by our clients in studio, meeting room, party, wedding celebrations and outside advertisement for about 15 years

For material, our backgrounds can be divided into 3 main sorts: non-woven(poly-canvas), cotton and Polypropylene. Non-woven is made from long fibers of polypropylene. It is light and has flattening surface. Cotton cloth has the advantage of good light absorption capability, soft color, and easy carrying. Using good quality modacrylic pigment, our products features strong adhesive power, and pure and non-fading color.
In recent years, we have developed photography equipment and photography props, such as backdrop roller systems, portable backdrop stands, axial fans, rail systems, fiber glass prop, light foam prop, wooden prop etc. We also deal with studio flash lights, soft boxes, light stands, reflectors, photo umbrellas and light accessories. To satisfy your diversified needs, we can also supply many good quality photographic accessories at competitive prices.
Suzhou Comet Photo Backdrop. Co., Ltd. has been offering much more new designed products to meet special requirements of consumers'.
Based on the management principle of "Customer-oriented service &unique expertise", we develop both the domestic and international market by implementing development strategy. Our products have been exported to Southeast Asia, Middle East, Africa, Europe and U.S.A etc. "Huachang" and "Cometspace", these two brands, are becoming more and more popular.
We always supply customers with high quality photographic products at reasonable prices, and offer good after-sale service.
Your proposals and orders are welcomed, and we are looking forward to business cooperation with customers all over the world.